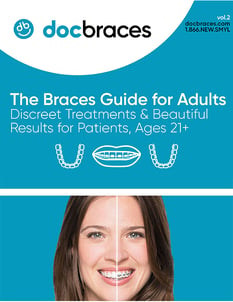 Did you know that nearly 50% of Docbraces patients are adults? Women and men ages 21+ from across the Maritimes are improving their smiles with convenient, discreet treatments. When you download the FREE Braces & Invisalign Guide for Adults
, you'll learn:
How orthodontic treatment can help you look your best as an adult
The health benefits that accompany jaw alignment and straight teeth
How discreet options are making treatment more attractive and convenient
Which factors contribute to the cost of braces and Invisalign for adults
And more!
---
Download the FREE Braces & Invisalign Guide for Adults